Anping County Dinghe Wire Mesh Co., Ltd. is located in Anping, the biggest Wire Mesh Production Base Area of Asia also known as Wire Mesh Land of China, being close to Beijing, the Capital City of China and Tianjin, the chief seaport of North China. Dinghe is known for woven wire mesh and other wire products. We can supply good quality wire mesh products at complete specification.:Stainless steel wire mesh,flat flex wire belt,balance weaving conveyor belt,chain link curtain,decorative mesh,insect screen,dutch wire mesh, wire mesh fences, monel wire mesh,inconel wire mesh,nickel wire mesh,brass wire mesh, galvanized wire mesh, crimped wire mesh, stainless steel rope mesh,barbed wire, wire sign stake,steel grating,extruder screen and so on.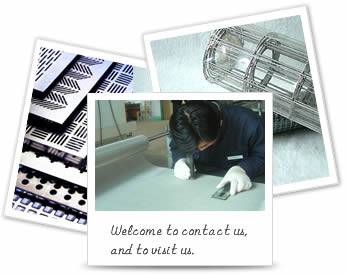 Wire Mesh: Features
· Economical · Large open area · Lightweight · Attractive and versatile
· Easy handling, cutting and shearing · Available in a variety of styles and materials
Wire Mesh: Custom Fabrication Services
Dinghe wire mesh offers cutting services for any wire mesh product. Cutting charges vary according to the number of cuts.
Wire Mesh: Applications
· Grilles · Machine Guards · Lockers · Security Guards · Pallets · Bins
· Infill Panels · Baskets · Dryer Trays · Strainers · Filters · Fan Guards
· Speaker Covers · Fencing · Window Guards · Gates · Catwalk Guards · Panel Inserts
· Safety Barriers · Racks · Shelving · Screening · Displays · Containers
· Vent Covers · Room Dividers · Diffusers · Litter Bins · Partitions · Ceilings
· Trailer Sides · Stairway Guards · Automotive Grills · Air and Liquid Filtration · Stucco Mesh · Cages
· Bird Screen · Grain Wagon Guards · Insulation Retention
Wire Mesh, also known as Wire Cloth, is amazingly versatile and is easily adapted to almost any application. we offers a wide selection of woven and welded wire mesh products with various mesh sizes, openings, thicknesses, and material.