Balance Weave Conveyor Belt
Material: SUS304 316 310S 321 904L.
The Balanced Weave Conveyor Belt is most commonly used wire mesh belt for conveyor. Conveyor wire belt is used in many food processing applications and in industries ranging from glass, ceramic, and metal working.
Balanced wire belts are built with flat wire spirals across the belts width and connected with either straight or crimped cross bars. The crossbar edges are either welded or linked. The balanced wire mesh construction offers various advantages of woven wire belts. Because of crimped connecting rod, the spiral pitches are accurately set. Deformation and stretch of belt are reduced as possible.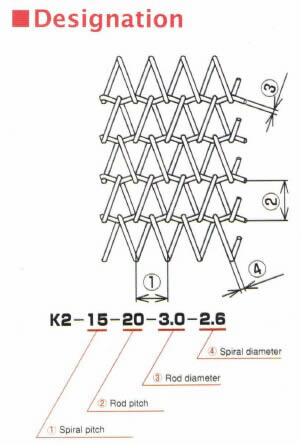 Typical specification (nominal size)

| | | | |
| --- | --- | --- | --- |
| Specification | Weight(kg/m2) | Specification | Weight(kg/m2) |
| K2-40-S0-6.0-5.0 | 15.0 | K2- 6- 9-2.0-2.0 | 16.1 |
| K2-25-30-5.0-5.0 | 23.7 | K2- 10-15-2.0-1.8 | 7.2 |
| K2-30-40-5.0-4.0 | 12.7 | K2- 6- 9-1.8-1.8 | 12.6 |
| K2-20-25-5.0-4.0 | 21.5 | K2- 10-15-1.8-1.6 | 5.6 |
| K2-15-20-4.0-4.0 | 25.4 | K2- 7-10-1.8-1.6 | 8.7 |
| K2-20-2S-4.0-3.4 | 14.4 | K2- 5- 7-1.6-1.6 | 12.7 |
| K2-25-30-4.0-3.2 | 10.4 | K2- 8-12-1.6-1.4 | 5.5 |
| K2-15-20-3.4-3.2 | 16.0 | K2- 5- 7-1.4-1.4 | 9.3 |
| K2-20-25-3.4-3.0 | 10.7 | K2- 9-13-1.6-1.2 | 3.9 |
| K2-15-20-3.2-3.0 | 13.9 | K2- 6- 9-1.4-1.2 | 5.6 |
| K2-10-15-3.2-3.0 | 21.9 | K2- 4- 6-1.2-1.2 | 8.5 |
| K2-15-20-3.0-2.6 | 10.6 | K2- 6- 9-1.2-1.0 | 3.8 |
| K2-10-15-2.6-2.6 | 15.3 | K2- 4- 6-1.2-1.0 | 6.2 |
| K2-15-20-2.6-2.3 | 8.0 | K2- 3- 4-1.0-1.0 | 8.6 |
| K2-10-15-2.6-2.3 | 12.3 | K2- 4- 6-1.0-0.9 | 4.7 |
| K2-8-12-2.3-2.3 | 15.3 | K2- 3- 4-1.0-0.9 | 7.2 |
| K2-12-18-2.3-2.0 | 7.4 | K2- 4- 5-1.0-0.8 | 4.3 |
| K2-8-12-2.3-2.0 | 12.1 | K2- 3- 4-0.9-0.8 | 5.5 |