Stainless Steel Rope Mesh
Stainless steel rope mesh named zoo mesh.
Interwoven Mesh are hand-woven which was also called hand-woven mesh is made from fine s.s. wire rope. The rope construction is 7 x 7 or 7 x 19 and made from AISI 304 or AISI 316 material group. This mesh has strong tensile strength, high flexibility,high transparency and wide span. The flexible s.s. rope mesh has irreplaceable advantages compared with other mesh products in many aspects like practicability, security, aesthetic property and durability etc. Its more and more appreciated by garden designers and architect all over the world.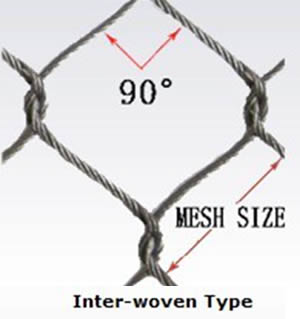 Cable Diameter
Mesh Opening Size
Normal Break
inch
mm
inch
mm
lbs.
1/8
3.2
4.75 x 4.75
120 x 120
1,600
1/8
3.2
4 x 4
102 x 102
1,600
1/8
3.2
3.55 x 3.55
90 x 90
1,600
1/8
3.2
3 x 3
76 x 76
1,600
1/8
3.2
2 x 2
51 x 51
1,600
3/32
2.4
4 x 4
102 x 102
920
3/32
2.4
3.55 x 3.55
90 x 90
920
3/32
2.4
3 x 3
76 x 76
920
3/32
2.4
2.4 x 2.4
60 x 60
920
3/32
2.4
2 x 2
51 x 51
920
5/64
2.0
3 x 3
76 x 76
676
5/64
2.0
2.4 x 2.4
60 x 60
676
5/64
2.0
2 x 2
51 x 51
676
5/64
2.0
1-1/2 x 1-1/2
38 x 38
676
1/16
1.6
3 x 3
76 x 76
480
1/16
1.6
2 x 2
51 x 51
480
1/16
1.6
1-1/2 x 1-1/2
38 x 38
480
1/16
1.6
1.2 x 1.2
30 x 30
480
1/16
1.6
1 x 1
25.4 x 25.4
480
3/64
1.2
1-1/2 x 1-1/2
38 x 38
270
3/64
1.2
1.2 x 1.2
30 x 30
270
3/64
1.2
1 x 1
25.4 x 25.4
270
3/64
1.2
4/5 X 4/5
20 x 20
270