Chain Link Fence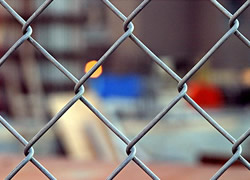 Chain link fence is also known as diamond fence, it is woven with high quality mild steel wire. It has the features of woven simple, beauty and practical. It's finish treatment is galvanized and plastic coated with long- time use and corrosion protection. They are widely used as protective fence in residential sites, roads and sports fields.
Materials: High quality mild steel wire, stainless steel wire, aluminum alloy wire, PVC wires, galvanized wire.
Features: Chain link fence has the features: smooth surface, durable, knit simple and elegant appearance. And the products are easy to transport and install. PVC chain link fences have different colors with decorative and antiseptic features in harmony with environment. They are popular protective fence at home and abroad.
Fence Type: Galvanized chain link fence, PVC coated chain link fence, stainless steel chain link fence.
Galvanized Chain Link Fence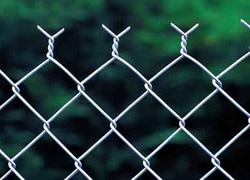 Materials: high quality galvanized wire, mild steel wire, aluminum alloy wire, iron wire.
Treatment: Electro galvanized, hot-dipped galvanized.
Advantages: Galvanized chain link fence is with long- time use and easy to install. All galvanized chain link fence accessories are hot-dipped galvanized and they are without maintenance for long time.
Opening
(mm)
1"
1.5"
2"
2-1/4"
2-3/8"
2-1/2"
2-5/8"
3"
4"
25
40
50
57
60
64
67
75
100
Wire diameter
18#-13#
16#-18#
18#-7#
1.2-2.4mm
1.6-4.2mm
2.0-5.0mm
Length/roll
0.50m-5.0m (can be longer)
Width
0.5m-5.0m
Materials and specifications can be made as request.
Stainless Steel Chain Link Fence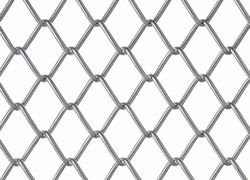 Stainless steel chain link fence is the most durable chain link fence compared with galvanized chain link fence and plastic coated chain link fence.
Materials: 201, 302, 304, 304L, 316 stainless steel wire.
Features: acid resistance, alkali resistance, high temperature resistance and weather resistance.
Specifications:
Wire diameter: 1.2-5mm.
Hole size: 25, 40, 55, 60, 65, 76 and 100. Special specifications can be available.
PVC Chain Link Fence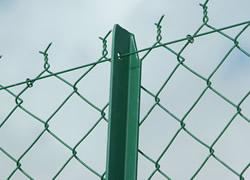 PVC chain link fence is woven accurately with PVC wire.
Materials: PVC Coated (stainless steel wire, low carbon wire, galvanized wire, black annealed iron wire).
Colors: green, white, black, brown. The colors can be chosen according to customers' request.
Anti-corrosion treatment: Galvanized or PVC Coated. Many colors are available.
Height (m)
0.9
1.2
1.4
1.8
2.0
2.4
2.75
3.0
Opening (mm)
50×1.70/2.50¼›50×2.24/3.15¼›50×2.50/3.55¼›50×3.55/4.75¼›'
Roll length
12.5/25(m)
Colors
Black, white, green, brown, as customers' request.
Uses: Diamond mesh is used as fencing for sports field, river banks, construction and residence, also animal fencing. Especially, well suitable for a wide range of application, for example for enclosing Lawn, Road. Steel diamond mesh has a heavy galvanized coating to ensure a long life.